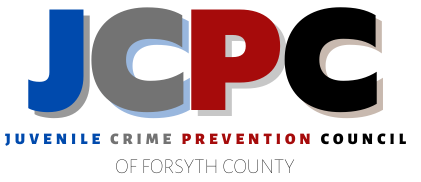 The Forsyth County Juvenile Crime Prevention Council (JCPC) is a state mandated Council (G.S. 143B-845) whose purpose is to reduce and prevent juvenile crime. Specific duties include:
Review the needs of juveniles in the County, who are at risk of delinquency or who have been adjudicated, undisciplined, or delinquent.
Review the resources available to address those needs.
Prioritize community risk factors & determine the services needed to address those problem areas.
Submit a written funding plan to the County Commissioners for approval.
Increase public awareness of the causes of delinquency and strategies to reduce the problems.
Develop strategies to intervene, respond to, and treat the needs of juveniles at risk of delinquency.
The Department of Juvenile Justice & Delinquency Prevention (DJJDP) collaborates with the Juvenile Crime Prevention Councils (JCPC) in each county to galvanize community leaders, locally and statewide, to reduce, and prevent juvenile crime. JCPC board members are appointed by the Board of Commissioners and meet at least bi-monthly in each county. The meetings are open to the public, and all business is considered public information. DJJDP allocates millions of dollars to these councils annually, in which funding is used to subsidize local programs and services.
CLICK HERE to view our most recent RFP
FY 2023-2024 Fund Distribution
FY 2023-2024 Fund Distribution

| Organization | DPS-JCPC Funding |
| --- | --- |
| ​YWCA Teen Court | $71,010 |
| Family Services - Strengthening Families, Trauma Assessment and Trauma Counseling | $100,000 |
| CCoS - Forsyth Temporary Shelter | $69,385 |
| Parenting Path - Parent Teen Solutions Group and In Home Visitation | $78,000 |
| Insight Human Services - Juvenile Psychological Evaluations | $45,000 |
| ​YWCA Work & Earn It Program | $86,935 |
| ​Authoring Action - Just Us | $33,333 |
| ​Aspire Forsyth - Kids at Work Forsyth, The Connection and Forward Focus Forsyth | ​$107,888 |
| ​Triad Restorative Justice - RESTART, Impact Circles | ​$66,534 |
| ​JCPC Administration | ​$15,500 |
| ​Parenting Path - Knock Out | ​$53,600 |
| ​Youth Collaborative - Project X | ​$213,667 |
JCPC Program Booklet
JCPC Brochure
JCPC meetings are held bi-monthly and are open to the public. For a complete list of upcoming meetings, click here.
For additional information on the Forsyth County JCPC, please contact:
Michala Westbrook
Forsyth County Budget Analyst
westbrms@forsyth.cc
Office: (336) 703-2895
Address: 201 North Chestnut St., Winston-Salem, NC 27101